Hello Eureka Heights Families~ Welcome to the 2023-2024 School year. We will see everyone tomorrow at 8:38 am . Please remember students will walk themselves to their classrooms on the first day of school:) Dismissal 11:40 Kdg front door- 11:40 1,2,back door 11:45 3,4,5 back door See you tomorrow. Mrs. Hall

New this year, we are adding MyPaymentPlus to our Food Services Program. Students will still receive free breakfast/lunch in our district, this will only be used for extra items if students wish to purchase things such as chips or pop that aren't included with the free meals. Some of the benefits of the new tool include: - Make payments to your student's cafeteria account - View cafeteria balances anytime - See what your student is purchasing in the cafeteria - Enroll in school activities - Pay for student fees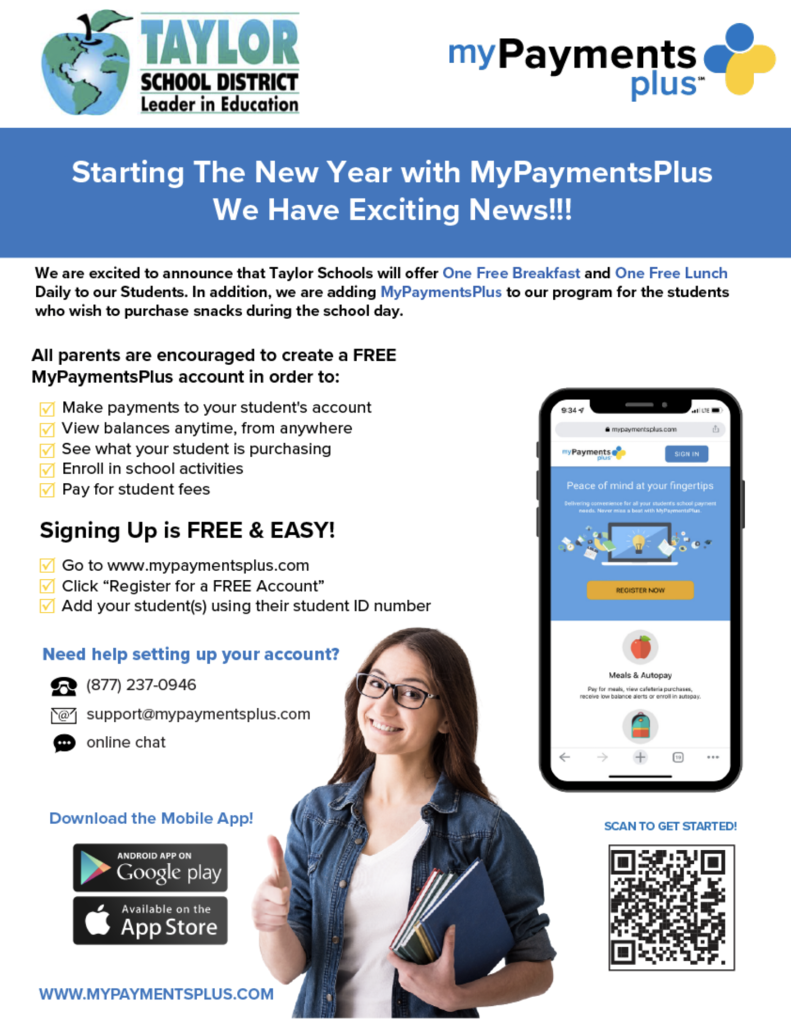 Eureka Heights Families~We will see you at our Open House Aug. 29, 2023 5:00 P.M.- 5:45 P.M. We will have the class lists posted on the board by the office for the students to meet their new teachers and find their new classrooms for the 2023-2024 school year. The first half day of school will be Sept. 5 at 8:37 A.M.- 11:55 A.M. Full days will begin on Sept. 6th.

We can't wait to see you on our Meet the Teacher/ Open House event Aug. 30, 2022 @ 5:00 pm.

Tuesday Aug. 30, 2022 Meet the Teacher Open House 5:00-5:45

All first - 3 graders should now have a Chromebook instead of an IPAD. If you student has a TSD ipad please have them bring in the ipad & charger so I can swap it out for them tomorrow. If you have any questions Please email-
stacie.hall@taylorschools.net

Hello Eureka Heights Face to Face Families- Thank you for all of your patience this week as we got back to our procedures and routines. Just a reminder drop off is at 8:35 am. Dismissal- Pick up for car riders is ... 3:20 kdg front door & Baker/Kalsic/ Zirkle - back door 3:25 3- 5 Back door 3:32 bussers

We can't wait to see you at our Open House- Meet the teacher Night!!!!!!!! Wednesday September 1, 2021 Families last name that start with the letters.... A-M 5:00 - 5:25 N-Z 5:30 -5:55 Please email Mrs. Hall at
stacie.hall@taylorschools.net
with any questions!


Please see this important letter regarding a FREE Summertime Fun program for Taylor School District Students entering grades 1-5. Please click the link below for access to the letter:
https://bit.ly/3yaS1ET