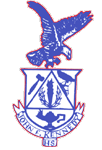 John F. Kennedy High School opened for classes over 50 years ago, on February 8, 1965. The 1965-66 enrollment was 1,359 students. In 1966, John F. Kennedy High School graduated 399 students in its first graduating class.
reasons to consider kennedy
All of our Freshmen (9th Grade students) have a Junior (11th) or Senior (12th) mentor, from the day they start at Kennedy.
This means that our 2015 class of Freshmen, 393 students at the time of this printing, can count on academic assistance from 418 upperclassmen, in addition to our teachers, teacher assistants, guidance counselors and administrators.
We offer Advanced Placement courses, as well as vocational technical skills training.
We are involved in a partnership with Wayne County Community College, so students can earn college credit while still in high school.
100% of our Seniors apply to college, and while advanced academics is encouraged, our Seniors are also exposed to potential careers in the skilled trades and the military.
Today, Kennedy serves over 1000 students in 9 - 12th grades.
To view more information about Kennedy High School click below.
AER Cover Letter 2016-2017
AER 2015-2016
---
kennedy fight Song

We are here to fight for
Kennedy
For the honor of our school.
We will give three great big cheers.
Rah! Rah! Rah!
For the red and white and blue.
To our colors we will loyal be
As we march to victory.
We will stand and say, it's the Eagles
all the way
Dear old J.F.K.